23rd INTERNATIONAL EXHIBITION CARTOON ZAGREB 2018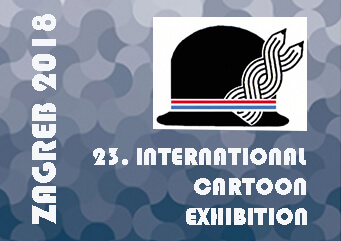 A. PARTICIPATION 
Organizer 23th International Cartoon Exhibition Zagreb 2018 Croatian Society cartoonist. The exhibition is open to all authors, regardless of nationality, age, gender or profession. 


B. TOPIC – Meteorology (weather, climate, weather and the like.) 


C. WORKS 
Works must meet the following requirements: 

1. Works can be original or digital. Author must hand numbered and signed by the cartoon in the event that they are print digital ju. Copies are not accepted. 
2. Papers may be black and white or in color. 
3. On the back of each work printed name and address. 
4th Works may not be awarded at other festivals. 
5th Participate be more than around three (3) working.
6. Your work can be A4 or A3. 


D. DEADLINE 
The deadline for submission of papers is 04.19.2018. years. 


E. ADDRESS 
CROATIAN SOCIETY cartoonist 
SAVSKA 100 
10000 ZAGREB, CROATIA 

F. PRIZES 
First prize – 1000 EUR 
Second prize – 500 EUR 
Third prize – 300 EUR 
Five special awards 


Mr. TERM EXHIBITIONS 
exhibition will take place in Klovićevi dvori in Zagreb 29.05. 2018th 


H. OTHER RULES 
Each author whose work is included in the exhibition will receive a catalog. At the special request of the author original works are returned at the end of the exhibition cycle (in the second half of 2019). 

By participating in the exhibition authors agree that their work can be used to promote the exhibition (catalog, poster, publication in the media, etc.) Without compensation to the author. 

The awarded works remain the property of the organizers. 


REGISTRATION 

By clicking on the above link download the application form.