3rd International Green Crescent Cartoon Contest/2018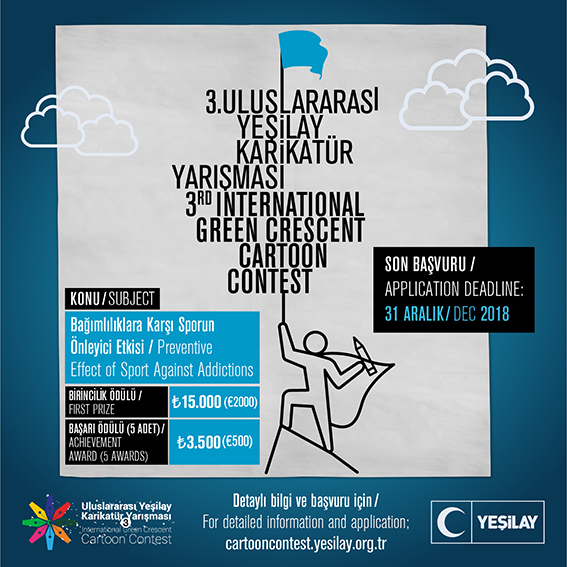 Green Crescent organizes the International Green Cartoon Contest to raise awareness and create awareness of the world, our country and especially young people against addictions.
With the third contest of this year, by including cartoonists around the world in our fight, we aim to convey their effective messages which they create with their own styles and humour elements.
Subject of the Contest: "Preventive Effect of Sports against Addictions"
Sport and moving life have a preventive power and influence on avoiding addictive substances.
With sports and moving life which are of great importance for us to live happier and healthier,
we can ensure that individuals, society and future generations stay away from addictions. 
That is why we want to share the power and influence of sports and moving life with the world and young people through the eyes of you cartoonists. 
We identified the main topic of the contest as the "preventive effect of sports against addictions".
NUMBER OF WORKS
Up to 3 works can be sent, published works may be participated in, provided that they are not awarded.
SIZE
A4 or A3
TECHNIQUE
Black and white or colored
LANGUAGE
Turkish or English (text will be used if necessary, but not visual / verbal)
AWARDS
Turkish or English (text will be used if necessary, but not visual / verbal)
PARTICIPATION
The artist must send his cartoons on website, no later than January 13, 2019. Cartoons' digital files must be max 5 MB, 300 dpi, JPG, A4 or A3 format.
Green Crescent can use the cartoons participating in the race in any way he wants. It does not create any copyright for these works.
AWARDS
2000 Euro  Big prize of contest.
Also a plaque will be given as a prize.
5 PEOPLE 500Euro
Success prizes of contest for five cartoonists. Also a plaque will be given as a prize
JURY
Metin Peker
President of the Cartoonists' Association
Prof. Dr.Peyami Çelikcan
President of Science Board of Green Crescent and Rector of İSTANBUL ŞEHİR UNIVERSITY
Borislav Stankovic
Cartoonist and Winner of 2nd International Green Crescent Cartoon Contest
Şevket Yalaz
Cartoonist
Özcan Çalışkan
Event Unit Manager of Green Crescent and Cartoonist
Deadline 31/12/2018
http://cartooncontest.yesilay.org.tr/en/admin/login