International Cartoon Exhibition "MANUFAKTURA SATYRY", Zyrardow, Poland 2018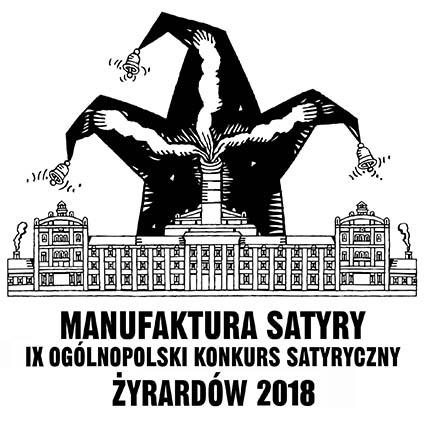 "INDEPENDENCE" 100.ANNIVERSARY OF POLAND REGAINING INDEPENDENCE
INVITATION TO PARTICIPATE IN THE EXHIBITION
For the ninth time the city of Żyrardów (Poland) is organizing the All-Polish Satirical Contest, ,,Satire Manufacture", whose aim is to popularize the industrial history of Żyrardów. In addition to the competition (only exhibition), we invite artists from abroad. So far, works have been shown by artists from Canada, Italy, France, Luxembourg, Czech Republic, Hungary, Romania, Lithuania, Ukraine, Russia, Turkey and Germany.
Subject: Independence. 100th anniversary of Poland regaining its independence
The fathers of Polish independence – Józef Piłsudski, Ignacy Jan Paderewski and Roman Dmowski.
The place of Poland in the modern world.
How do and foreigners see Poland and Żyrardów.
We encourage you to visit the website of the City of Żyrardów www.zyrardow.pl
and the website of the Museum of Western Masovia www.muzeumzyrardow.pl
More about "Satire Manufacture":
https://www.zyrardow.pl/3011,manufaktura-satyry.html
Catalogue "Manufaktura Satyry 2017":
https://www.zyrardow.pl/plik,21787,viii-ogolnopolski-konkurs-satyryczny-manufaktura-satyry-miasto-z-czerwonej-cegly-pdf.pdf
Entries: Send by e-mail:  zbigniewkolaczek@wp.pl
Only cartoons (up to 3) in digital form to send with e-mail will be accepted.
Digital works (A4/A3, 300 dpi, JPEG)
personal information (name, address, e-mail (.doc format)
Deadline: 21. 06. 2018
Exhibition: October 2018, Zyrardow, Poland
Catalogue: printed catalog / the catalog in PDF format from our website: www.zyrardow.pl
best regards,
Zbigniew Kolaczek
"Manufaktura Satyry", Zyrardow, Poland